---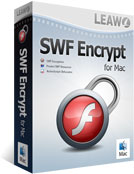 As a professional Flash SWF protector on Mac, Leawo SWF Encrypt for Mac is specially designed to encrypt and protect your SWF files from would-be hackers. It could protect SWF files of Adobe Flash 8/CS3/CS4/CS5/CS5.5, Flex and Flash Builder against SWF decompilers and SWF decrypt tools. With its professional and advanced ActionScript obfuscation technology, this Mac SWF Encrypt could help you obfuscate the ActionScript codes of your SWF files in different encryption ways so as to prevent SWF files from SWF Reverse Engineering and Decompiling.
It allows you to add Relevant and Irrelevant SWF files respectively, which ensures successful SWF encryption and SWF playback after encryption. Various SWF encryption ways are given to meet different purposes to protect SWF files. Besides, every operation is attached with specific script and diagram explanation.
The SWF encryption has no side effect on the normal running of SWF files, so you don't need special Flash player to play them. If you're looking for a reliable Mac SWF protector, Leawo SWF Encrypt for Mac will be your best choice.

---
Version:
1.0 
Size:
8.73 MB 
Trial Limitation:
Desaturate & Watermark 
Supported OS:

OS X 10.5, 10.6, 10.7
---
Key Features
Advanced Obfuscation techniques and Encryption technology
Obfuscate ActionScript codes of SWF files against SWF decompilers and SWF decrypt
Support to encrypt Adobe Flash 8/CS3/CS4/CS5/CS5.5, Flex and Flash Builder (in SWF format)
Provides obfuscation for ActionScript 3.0 programming language
Load Relevant SWF files for smooth SWF files invocation after encryption
Load Irrelevant SWF files for successful encryption respectively
Prevent SWF files from SWF Reverse Engineering and Decompiling
Provides basic encryptions including Name, Classname and Namespace encryptions
Unencrypt for Special Names to make certain names unencrypted
Unencrypt the Names appear in both SWF and XML files to ensure normal operation of SWF files after encryption
Strings Intensive Encryption allows to encrypt intensified for some intensive strings
Packers Encryption encrypt SWF files with shells protection intensively
Detailed script and diagram explanation for user-friendly operation
Batch SWF encryption to save time and energy
Apply different encryption settings for each SWF file
Easy to use interface with fast encryption speed
User Guide of Leawo SWF Encrypt for Mac. Step 1: Load SWF files for flash encryption
Step 2: Choose SWF encryption ways
Step 3: Set output location
Step 4: Start encryption


Products List
Video Tools

Video Converter Ultimate/Pro
Video Converter
Blu-ray Creator
iTransfer
Music Recorder

PowerPoint Tools

PowerPoint to DVD Pro
PowerPoint to Video Pro

Blu-ray/DVD Tools

Blu-ray Copy
Blu-ray Ripper
Blu-ray Player
DVD Ripper

Utilities

iOS Data Recovery
iOS Data Recovery for Mac
Tunes Cleaner
Tunes Cleaner for Mac
SWF Encrypt
SWF Encrypt for Mac

Mac Video Tools

Video Converter Pro for Mac
Blu-ray Creator for Mac
Music Recorder for Mac

Mac Blu-ray/DVD Tools

Blu-ray Ripper for Mac
Blu-ray Copy for Mac
Blu-ray Player for Mac
Blu-ray to MKV Converter for Mac
Thanks for your great work – and keep up
with the good work.
            From Jay Burt

I was lucky that my search words matched your website offering. I may recommend to
my friends about you.
      From Rajesh Madhawarayan